Restaurant Review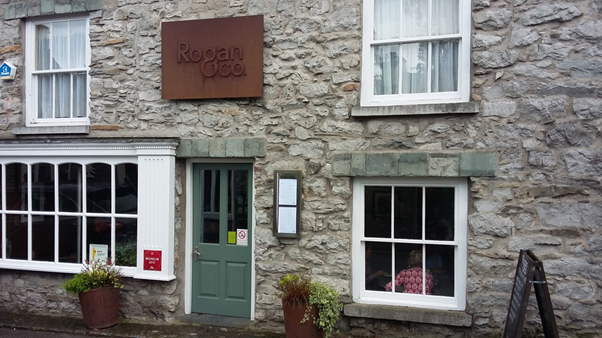 We broke off from our cycle tour of Morecambe Bay to lunch at Rogan and Co in Cartmel. Not, you will understand, that this was your standard cyclist's cafe against whose walls we had leant our bikes and trooped in all sweaty and out of puff for a shot of caffeine and possibly the odd scone. No, this was the 'more informal dining atmosphere' of the restaurant attached to L'Enclume – the Michelin Starred eatery established by Simon Rogan. Nor had we arrived by bike having conquered the ascent of Bigland Hill – we had put aside a day forecast to be wet specifically for the experience and had arrived in style for our lunch – in the van.
We were first to arrive and were shown to a window table with a view of the Priory peeping round the corner of a suitably quaint street. The interior with its plaster walls, exposed oak beams and subdued colours might have felt a bit enclosed on a glorious sunny day, but on a wet day it was very welcoming, as were the staff who showed an appropriate level of interest in what we were doing in Furness. The only slightly disconcerting aspect was the 'background' music – high tempo pop standards with lots of high energy brass sections. OK we thought for the kitchen (which was visible through a large serving hatch), but for a high class nosher ….. ?? Nevertheless, and entirely predictably, the music faded as the restaurant filled – which was impressive for a wet Monday in September.
My companion ordered a glass of amontillado as we perused the menu but I went for tap water, as a reviewer I felt that I couldn't allow judgment to be clouded in any way. We decided to go for the 'set lunch' deal – 3 courses for £29, which is what everyone else seemed to be doing. We were quickly provided with sough dough bread and unpasteurised butter from their own farm, a theme of local sourcing that ran throughout the meal and one that is clearly central to the restaurant's ethos. The bread was of a good texture and the butter a taste sensation, more like a creamy cheese that your standard Lurpak or Anchor.
My starter, caramelised potatoes, smoked eel and buttermilk cream arrived looking like a cake at a child's party with blobs of white and green on its top surrounded by a creamy green custard – and was absolutely delicious. The firm chunks of potato were well balanced by a subtly smokey jus. My companion's caramelised pork belly was tender and lean beneath a covering of crisp artichoke shreds. Yum.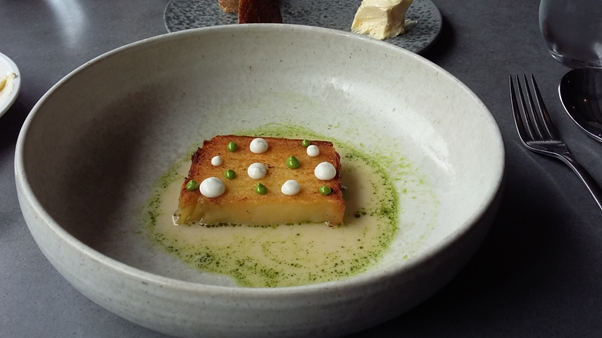 There was an appropriate delay before the main course, which allowed me to try, without success, to take an arty photo of the priory's tower reflected in the polished black surface of the window ledge while my companion kept the goings on of the staff and the other diners under review.
In the interests of wide ranging research we had chosen different mains –  roasted plaice (dark side) which was firm and moist with an intense flavour of cep mushroom and offset by toasted yeast – and goosnagh chicken (sourced from a farm near Preston) – tender chunks of which sat in a tarragon and stout sauce. This was very good indeed, although if I was being picky I would take slight issue with the accompanying runner beans which, to my mind, were just undercooked with an unwelcome hint of woodiness. Worried that we might be fine dining rather than proper troughing we had ordered two sides, one of potatoes, the other of beetroot. Fine although these were, they were in retrospect superfluous – we were being provided with a good quantity of food.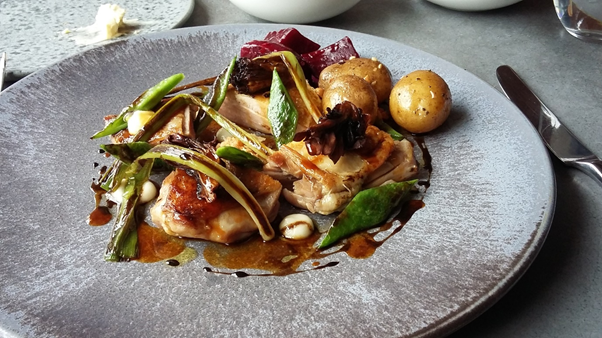 We don't normally go for three courses but on this occasion we thought it would be rude not to and so waited with a degree of excitement for the desert. My companion was initially a bit taken aback by the presentation of her absolutely first class dark chocolate fondant with anise hysopp but once its covering of white froth had been reframed as 'spindrift' enjoyment proceeded unabatedly. My white chocolate cream with meadowsweet and strawberry was a sensational array of reds, greens and blues and deserved a pic regardless of our professional role. The cliché would be 'too good to eat' but that would do it a disservice – it was even better to eat than it looked. Yum, yum.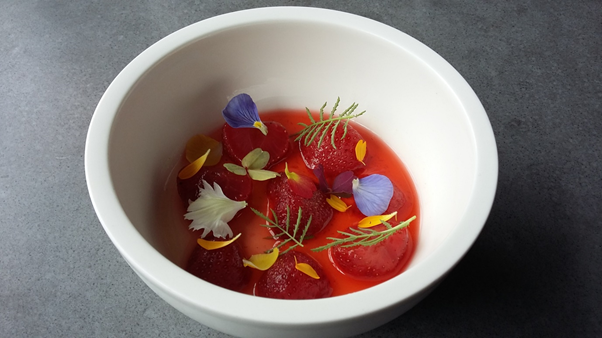 We finished with coffee and were even warming to the music (Eric – House of the Rising Sun) as we left to a drying landscape and the beginnings of a sunny afternoon. Would we recommend Rogan & Co? You bet! The food was expertly cooked using unusual combinations of local ingredients which delivered distinctive and well balanced flavours. Presentation was imaginative and fun served by a well informed and friendly staff. We left suitably sated and feeling as though we had had value for money.