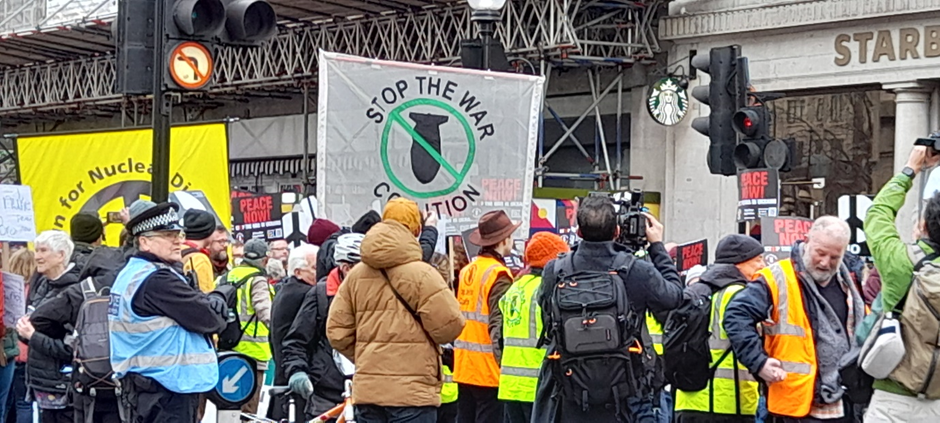 On Sunday 26th February the Stop the War coalition issued a statement which included:
'Yesterday, thousands of people marched through central London demanding an end to the war in Ukraine.
Demonstrators called for immediate peace talks to avert the growing threat of nuclear war. The crowds called on Sunak and co to push for diplomatic solutions to the war and stop escalating the conflict by supplying billions of pounds worth of weapons.
With so much pro-war propaganda currently going the rounds and so few voices for peace in our parliament, it's vital that the anti-war movement stands up to be counted.'
I had been unsure about whether to attend the demonstration, largely because it would disrupt a van trip through Wales that I had shoehorned into the ever-busy diary. However, an exchange below the line on my friend Phil's blogsite about the effectiveness (or not) of anti-war demonstrations ( Stop the War NOW! ) had helped to clarify things. Here was a rare chance to publicly say 'not in my name' and to at least support other similar minded people. My friend Phil was going and, with a tweak to the van's journey planner, so was I.
When I arrived at Portland Square there weren't many there and I worried that it was going to be a long and lonely afternoon. Nevertheless, by the time the march headed off towards Trafalgar Square the police on the ground were estimating 5 – 6 thousand. Nowhere near Iraq war protest numbers – but acceptable and ensuring some comfort in numbers.
As expected from a popular front initiative, the groupings and messages were diverse. Some focussed on the threat of nuclear war, some on the escalatory role that the US and NATO were playing and some calling for Russian forces to be withdrawn. Some banners combined the latter two messages – which is the stated position of the Stop the War coalition. What was common was a view that the war needed to be stopped (as it says on the organisational tin) and not escalated.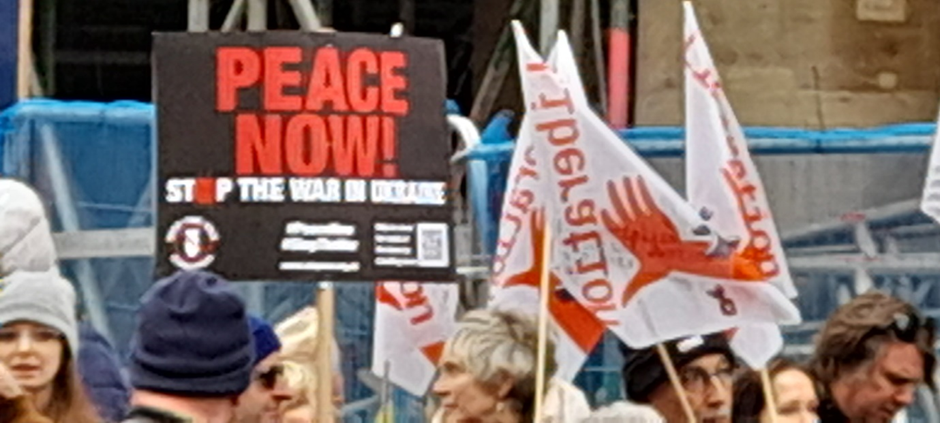 I was cold and was waiting impatiently for the march to start when from a side street suddenly issued a small group of counter protestors (a couple of hundred tops) waving Ukrainian flags, shouting anti-Russian slogans and holding banners which made it clear that escalation of the war was exactly what they wanted – to defeat Russian forces with the continued help of the US and NATO. A small group of anti-war protestors immediately moved to meet them, shouting and arguing. They effectively bottled them up in the side street. As I moved away to a safer distance, the police moved in, to keep the two groups apart and try, unsuccessfully, to keep traffic moving through Portland Square.
I was not party to the negotiations that must have then taken place as to how this confrontation of perspectives would be managed, but I suspect that the Police, who must have brokered the discussion, would only have been concerned about public order. The up shot was that the Ukrainian pro NATO (and thus in my eyes, pro war) group were able to form up a little way up the road – ahead of the main demonstration.
So, there we have it. An anti-war demonstration, organised and promoted by the Stop the War coalition, set off with a pro war group leading the way.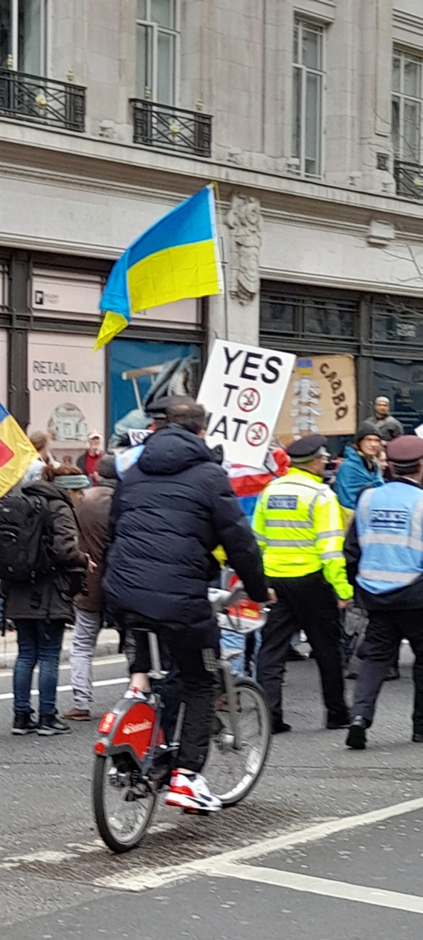 There was little response from the crowds in Regent Street or Piccadilly Circus as they tried to get on with their shopping or sight-seeing and very little annoyance at having to negotiate a slow-moving column of people – whose very purpose was to disrupt and call attention to itself. If anything I felt that 'bemusement' was the main public response, which at the time suggested to me a lack of knowledge, understanding or even interest in a war which we are up to our necks in. On reflection however, the bizarre composition of the column can't have helped!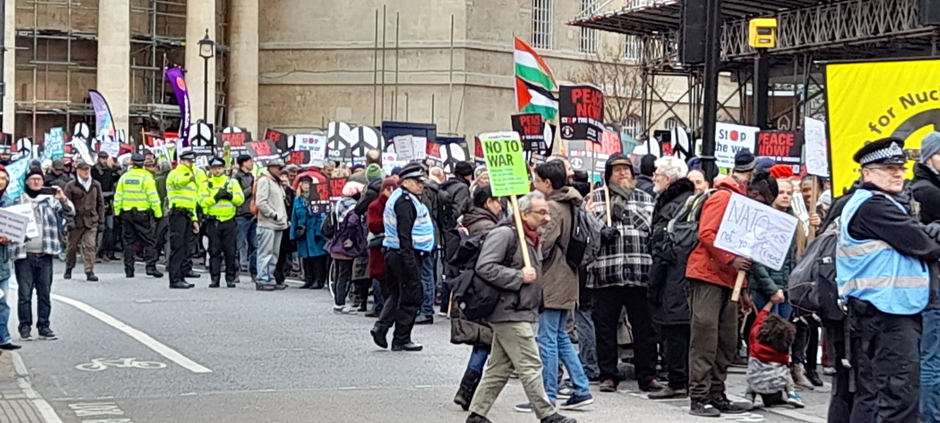 Arriving at Trafalgar Square for the obligatory speeches I was relieved to see that we had at least outnumbered a protest against the expansion of London's ULEZ. A small victory – but hey we'll take them whenever and whatever!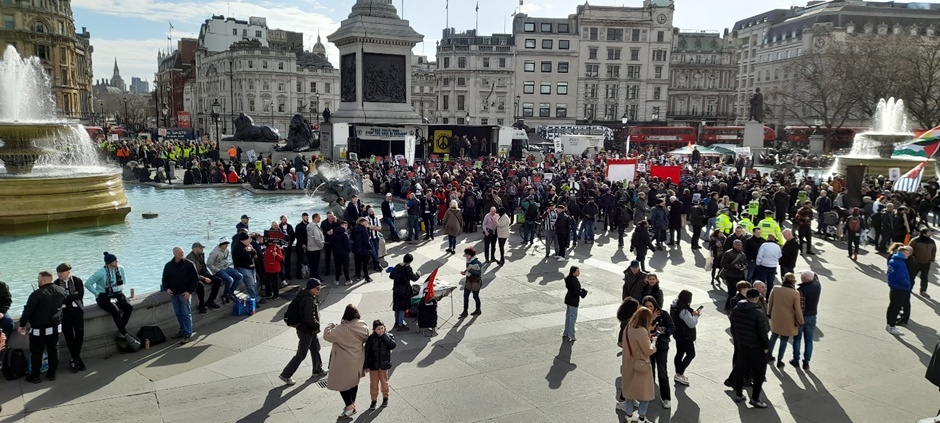 For an excellent set of pics and comment see ( Anti-war demo in London, February 25 ).
Later that evening, snugged up in the van in South Oxfordshire, I checked the Guardian website. I wasn't expecting much coverage – but there was none. None at all! There was however an article on a 15,000 people demonstration against supplying arms to Ukraine in Berlin (fair play – a good turnout) and, and, a report on a demonstration that morning outside the Russian Embassy in London by about 200 people waving Ukrainian flags.
Having a say in, never mind controlling, the narrative is becoming ever more difficult.
But that was later. Back in London on that chilly February afternoon, there was still beer and friendship.