'These torturing hours of ascent seemed as though they could never end ……… the sun trampled overhead through sizzling and windless air. Feet became cannon-balls, loads turned to lead, hearts pounded, hands slipped on the handles of sticks and rivers of sweat streamed over burning faces and trickled into our mouths like brine. Why, we kept wondering, though too short of breath for talk, does one ever embark on these furious wrestling matches, these rib-cracking clinches with the sublime?'
Patrick Leigh Fermor, 'Mani – Travels in the Southern Peloponnese' (1958)
Those of us who walk mountains are likely to have been here at some point: overcommitted, overreached and hot and bothered as you struggle up an abomination of a slope that has turned rather cliff-like in an isolated wilderness of valleys, ridges and summits. There comes a point when those thoughts become so persistent that, despite an admirable determination to remain positive and focused on the task in hand, you cannot but acknowledge that going on may well be foolhardy. As you allow these thoughts to break across morale that is already under siege you also have to admit that this would have been much better attended to at least an hour previously when the transition from challenging walk to scrambling climb was taking place.
Going back down would be difficult – more difficult and potentially dangerous than coming up – and would herald a defeat, an acknowledgement of incompetence and poor judgment – not something that any self-respecting mountaineer likes to contemplate. So you keep going up, hoping that matters will resolve themselves and you will eventually emerge triumphant into those much heralded sunlit uplands.
In 1980 Sue and I were entering this phase of doubt / denial as we pulled ourselves up on tree roots, tree trunks , rocks and anything else we could grab on to on the western slopes of Delfi as we toiled in an all-consuming heat towards the summit Avgeri (681m) in the middle of Skopelos in the Northern Aegean.
During our stay on the island we had made good use of well-maintained stone mule tracks which linked towns, villages and isolated hamlets deep in the interior. Supplied with rudimentary maps we had wandered around, never entirely sure where we were but seemingly always ending up where we had intended to be.
The interior of the island is dominated by a high, pine clad ridge which had become more and more tempting the longer we spent walking in its foothills and bussing around the coast. The map showed a path running its length and a couple of tracks that promised to give us access from the lower slopes. We could see it was a big walk in hot, humid conditions with a total ascent of over 2000 ft. and a length of around 10 miles – so we decided to make a day of it……….
We had talked, loosely it has to be said, about getting up early and catching the 7 am bus. There was no other way to get around on the island in those days – apart from by boat. When we arrived to catch the 9.30 bus we realised that we were already on the back foot. A large group of trippers heading for the beaches was waiting for the antiquated bus that ran the length of the island. Everyone got on, they always did, but our attempts to engage the driver in a discussion about where we should get off were completely lost in the melee. So off the bus trundled crammed with holiday makers, stopping along the way to drop small groups off at various beaches. By the time we had worked our way back to the front of the bus we were already half way up the island and decided we had just better get off. As the bus disappeared we were left trying to decipher the map and contemplating the looming ridge above us. Not sure where we were, we elected to walk northwards along the road until we found a path that led into the hills.
On cue a well surfaced track appeared and up it we strode, already hot in the fierce sun. The track took us to a silent small holding from where it narrowed into a winding path leading us up underneath pine trees, the gradient becoming ever steeper. As we puffed and panted our way up an increasingly indistinct route the trees thinned and became more stunted, offset by thickening undergrowth. We had been scrambling for well over an hour and well into 'The Paddy Zone' before the desperate need for a rest forced us to stop. Belatedly we assessed the situation – the terrain was becoming ever more difficult and we were getting tired. We had only a rough idea of where we were – but we weren't lost. At least the choice was simple; we either went back down or carried on up towards the ridge.
I don't remember much discussion, we knew what we were going to do; what we always did in these situations – we were going to carry on – we were well and truly committed.
On and on went the interminable gralliteration of grappling, grasping and grimacing as we continued to pull ourselves upwards, feeling like Paddy's 'felons on a treadmill'. We didn't stop again, to do so would have invited more pesky thoughts – we just climbed!
Suddenly we were under pines again and the slope began to flatten – and there, running north to south, was the most perfectly made mule track ever! We were on the ridge and back on the network! All sense of recklessness and self-doubt disappeared instantly; everything had been under control! We turned south and walked until we found a place from which the western side of the island and the surrounding blue sea could be seen below us.
Now we were hungry! Feeling all the righteousness of a challenge well accomplished (it's easy to see how you might not learn from your mistakes) we fell upon a picnic lunch of bread, feta, tomatoes and fruit. We were sparing with the water (the first sign of returning responsibility) as we had drunk frequently on the now barely remembered travails of the slopes.
Sitting with my back to a tree, replete with a celebratory lunch and gazing across the sea as though from the sky itself I casually asked about the time.
Sue consulted her watch 'four thirty.'
'FOUR THIRTY? – it can't be, we've only just had lunch!'
I was aware of the flawed logic encapsulated in this statement – but was unable to enjoy its silliness as I articulated a more pressing issue 'Bloody hell, it'll be getting dark in 2 hours!'
At least we knew where we were – we were on the highest ridge in the middle of the forested wilderness that made up the island's interior. But we were on a mule track – which would be going somewhere – but we only had a couple of hours to get out of the hills. We had no lights, head torches were not available in those days. If you wanted light at night you used a potholer's head lamp connected to a large, heavy doorbell battery in your rucksack. I had this kit – but not with me in Greece!
Urgency, tinged with the return of anxiety now dominated as we moved swiftly along the track as it wound southwards along the ridge. I tried not to think about how we would be faring if the path hadn't existed, or we hadn't found it, but chose instead to enjoy its solidity and its promise of connectedness to places and people outside of the wilderness. We fairly whizzed along and after an hour, much to our relief it began to descend. We were making progress, but were we making it quickly enough?
The track started to zig-zag downwards through cultivated terraces and then we stumbled into the middle of a small-holding with stone enclosures for goats and donkeys – and a single story dwelling with plums spread out on the roof to dry. Under a large tree sat a family; adults and children, relaxing after a meal.
It wasn't quite a Eric Newby emerging from the thorny wilderness of a valley in the Apennines with his clothes in tatters moment – but we were really pleased to see these people – and they seemed pleased, if a little taken aback, to see us. There were smiles and greetings, an insistence that we joined them for what we would call turkish delight but for which I suspect they had an alternative name. Communication was noisy – a mixture of guide book Greek, a bit of German and English and the inevitable gestures and signs. Out came the Ouzo and things were going really rather well as they tried to understand why on earth we would be blundering around on the mountain, 'mad dogs' I began to muse to myself before realising with a jolt that we were far from being 'out in the mid-day sun'.
I can still feel the conflict as I write this – stay and enjoy their hospitality / move on whilst we still could see – a bit. It was not difficult to convey where we wanted to go but making it clear that the route had to be as straightforward as possible was a bit of a challenge. We were eventually waved off down the continuing mule track with what we chose to interpret as reassuring smiles.
We needn't have worried, we arrived back in Skopelos town a couple of hours later grateful for the infrequent streetlights on the road to which our magical mule track had safely delivered us.
This encounter, although particularly memorable due to the circumstances, was not unusual. We met many islanders who wanted to engage with us as we wandered around the network of mule tracks. They were exotic to us – and us, I think, to them.
Neither of us was surprised to find, 36 years later, that both of us had identified a reprise of this walk as a priority activity in the five days we had on the island.
The bus was different, modern and almost empty. The tourists largely travel to the beaches in hire cars these days. We had plenty of time to consult with the driver and show him our map. He nodded and off we went. We tried to follow progress on the map but struggled to differentiate between shrines, chapels and churches and were beginning to wonder whether the map was just a more complicated version of the inaccurate one we had used 36 years ago.
Eventually the bus stopped, in the middle of no-where, the driver gestured and we got off. Resorting to the tried and tested we set off walking northwards until we found a path heading in to the hills, except it wasn't a path, it was a wide dirt track. This was much easier going than our previous expedition as the track climbed steadily across the slopes of the hills, allowing fantastic views across the still thickly wooded wilderness and over the sea. Two herds of goats crossed our path, or we theirs. Sleek, glossy brown, they watched us carefully before climbing surefootedly and unhurriedly away up the slopes and out of sight.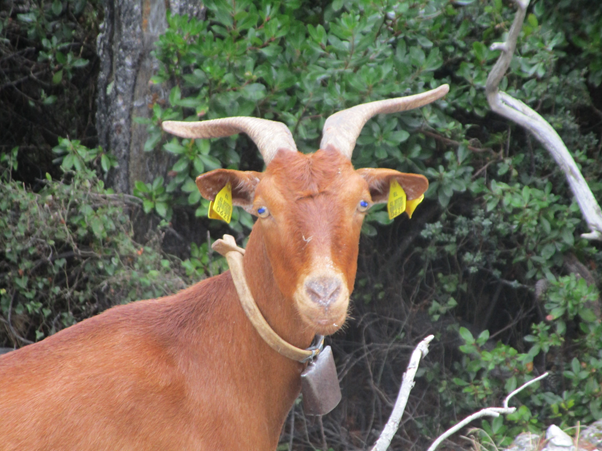 We never found the mule track, despite a clear path shown on the map; there was no sign of it in the undergrowth that covered the ridge where our track crossed the watershed, so we remained on the track, contouring round behind the hill until we emerged at its southern end. We didn't see any dwellings or any islanders. A buggy passed us with two young tourists hanging on to it and themselves. We waved as a dust cloud engulfed us and they didn't.
As we gradually lost height following the dirt tracks towards Skopelos Town we came across a small holding with a few goats and fig trees. A car was parked at the front of a single story house and on the veranda stood a young woman talking on her mobile phone. She did not notice us crossing right in front of her.
If we had ever been exotic we certainly weren't anymore!