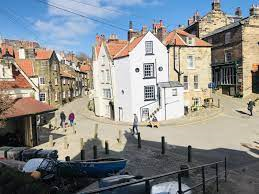 The Band had the Big Pink, Eric played dominoes at 461 Ocean Boulevard and Mr Stills had a whole railway station, whilst The Bad Dads (well two thirds of them) had Dock Cottage. It was all the rage in the 70s, bands would go all residential in big rambling houses in remote or exotic places in order to craft their next album, largely un-interrupted by the outside world. These sojourns would typically last for months with music being made at any time day or night – as the inspiration took them (or as Calvin Samuels, bass player in Manassas, put it 'whenever the boss said so, as he was paying').
My friend Steve and I set off one cold Friday evening in January to drive northwards to Robin Hood's Bay on the North Yorkshire Coast, a thin village of narrow lanes that slides steeply down to the sea – the North Sea. Crammed in the back of the car were the necessaries; instruments, amplifiers, speaker cabinets etc. Everything you could possibly need for a weekend!
As we drove, we talked, initially about families, the day jobs and then to the nub of it – making music, creating music, arranging the stuff and finally to the achilles heel of most of us – writing lyrics. As we neared the end of our journey and the stars shone clear and frozen above a deserted North York Moors, we concluded that writing lyrics for a tightly structured 12 bar blues might be something that we might have a stab at. As the car crawled warily down an icy Blue Bank towards Whitby we got as far as that timeless line 'I woke up this morning' and then, relieved that some progress had been made, immediately parked it for the night (the line – not the car, obviously).
Dock Cottage may not have the cachet of a 461 or the vividness of pink (it's white) but it is a pretty special place; a building of four rooms, one on top of each other connected by a steep staircase of sharp corners with a few round windows thrown in to complement the more prosaic rectangular sashes. The cottage is situated opposite 'the dock'. This to my mind is a misnomer as there is no 'dock' but a narrow slipway heading down and out to the sea – a sea that, on a high tide with a spring in its step, rushes up the slipway in wave after wave, spilling out across the road to the very walls of the cottage itself.
Wary of the threat of watery engulfment and pierced by a very, very thin wind off the sea we unloaded the gear into the bottom room (kitchen) then lugged it, piece by piece up the stairs into room two, the sitting room. This was hard work, particularly the 4 x 4 x 12" bass speaker cabinet, but there hadn't been room for the roadies ………
Finally, we sat down and as the exertions began to recede so did our mercuries – it was freezing! However, this was exactly what the cottage and in particular the sitting room was designed for – cold winter nights in front of a roaring coal fire with a large window overlooking the dock. Our last task was therefore to bring coal up from the cupboard in the kitchen and get warm (well not quite the last task, we then set up the equipment, made some exploratory noise and then settled back to drink beer). We were ready for inspiration to call by!
The following morning brought a dawn illuminated by a bright sun rising out of the sea to the east (where else?) that felt as though it had been constructed out of shards of clear ice. Over a breakfast of bacon butties sitting in front of the embryonics of a blaze, the general consensus was that a walk would put us in the right frame of mind for all that creative malarky, so we banked up the oh so precious fire and set out into a day of uplifting promise.
Spring tides had other advantages as well as the entertainment of watching the sea sluicing up and down the slipway – exceptionally low tides gave access to the horizontal rocky scars that run out seawards from the foot   of the cliffs – ledges and intervening beachlets that would be covered at all other cycles of the tide. We consulted the tide table in the window of the Post Office and concluded that we had just enough time to scramble our way northwards underneath the towering cliffs to places with names like Bulmer Steel Hole, Castle Chamber and Craze Naze. It was slow work, picking our way across the ledges, some smooth and flat, others made of razor-sharp ridges, stopping to examine the rusting engine block of some long-foundered vessel or just to sit in the sun and take in the temporary unreality of the place. There was just enough of a hint of jeopardy to give the expedition some edge – the sea would, after all, come back in across this world only too quickly once it was motivated to do so and it was cold in that ever-present north easter of a wind beneath those dark forbidding cliffs that blocked any easy escape. It was with some relief, therefore, that we located the fixed rope that led us up the side of the cliffs from Pursglove Stye to Oakham Beck whose water cascaded over the edge – well that part of it that wasn't blown back in its face – or was it our faces?
It was decision time – go back to The Bay, the fire and the music or head on along the top of the cliffs to Whitby for fish and chips and a pint in a warm pub ………….?
A couple of hours later in The Golden Lion I came to appreciate for the first, and to date only time in my life the sheer heft of the expression 'it's not over until the fat lady sings.' We were ensconced in a corner of the public bar, which was otherwise crammed full of diasporic locals determined to enjoy their Saturday lunchtime drinking. The genial landlord, who seemed to be enjoying the banter, jokes and stories as much as his clientele glanced at his watch and, somewhat reluctantly I felt, began to move a hand towards the bell hanging in the corner.
'Hey Sean!' came a rather slurred remonstration, 'We haven't had a song from Nell yet.'
'Go on Nell! Give us a song'.
'6 pints of Guinness Sean, 2 of that English beer, 2 Duboni's and lemonades, a cider and er …. a babysham please'.
Sean's hands found work more agreeable to the assembled company and Nell got to her feet. I think we need to be clear at this point that Nell was not fat (a rather derogatory and unacceptable term, but we are stuck with the saying ……) but she was large and powerful and her voice! Well, it just came broiling out with a force that pinned you back against the wall (fortunately we were already backed against the wall otherwise I think we would have been blown there). She was simply magnificent and, with the aid of two more rounds ordered and consumed between the three songs that she belted out, so was the world and all who sailed in her.
As the reverberations of Danny Boy faded Sean's hand moved towards the bell once more – then pulled back un-needed as the bar emptied.
'C'mon you two' Nell grinned at us, 'your bus goes in five.'
Struggling to empty our glasses (somehow we had been included in those last rounds) we rushed after her determined stride as she carried two enormous shopping bags to the bus stop outside the railway station. I'd like to say we offered to carry said bags, but truth be told it was as much as we could do just to keep up with her.
Once we had alighted from the bus back at the top of Robin Hood's Bay and floated rather erratically down the lanes to the cottage, we made an important strategic decision. What our creativity needed now was a little lie down – but in order to ensure we would be ready to go once we had benefitted from a good rest we did manage to riddle and rebuild the fire.
It was dark when we reconvened in the sitting room, which now had a fantastic fire blazing away. With aid of a couple of cups of strong coffee sans lait we finally got down to it, working on ideas that seemed to litter our musical endeavours without ever coalescing into finished pieces. We worked on a new number that had been inspired by our slightly edgy experience of the transitory space between cliff foot and spring low tide sea earlier in the day. We even thought we had some outline lyrics, but when I retrieved the crumpled piece of paper from my pocket, where it had been stuffed when Nell entered our lives, all it showed was some disconnected words e.g. 'sea', 'rock', 'cold', 'old', 'friendship', 'warmth'.
'Hmm,' said Steve with a grin 'that's your department …. you'll have no trouble licking that into shape I'm sure ……… have you got a title for it? Needs a strong title to carry it along.'
'Well ……' I hesitated, 'how about Going down to the sea …..?'
'Good ……… phew it's getting hot in here!'
Steve was right – it was hot, in fact it was roasting as the now thoroughly warmed room trapped and convected heat like billyo – and we were already in T shirts! I took my shoes and socks off and opened all the doors in the room.
'Don't suppose we can open the window?'
'And carry on playing?'
'S'pose not.'
We moved as far away from the fire as we could, leads snaking across the floor to the amplifiers and speaker cabinets, Steve perched on the stairs with a guitar, me, with the bass, sat on the toilet in the tiny loo that opened off the sitting room. The music filled a room now empty of musicians, a somehow fitting end to a most extraordinary and enjoyable day.
The following morning I came downstairs (two sets of steps) to find Steve standing facing the window with its sash thrown right up. He was silhouetted against a much more benign sun than that of the previous day. This one was just as bright, but you could feel its warmth as if it had made a temporary escape from a different season. The air was extraordinarily balmy for a Sunday morning on the east coast in January. Steve was plugged in to his amp and was quietly picking out a slow blues 12 bar in E (what else would anyone have done in these circumstances?).
I switched my amp on and followed the lead to the bass still propped up in the loo from the previous night, where I sat once more on the toilet and joined in with what I liked to think of as a rather understated walk. We played along for a bit and then I sensed a change in the room. Out of my line of vision Steve 'turned up a tad' and must have done the same on my bass amp as the volume of my playing suddenly leapt up. I hesitated, thinking that this probably wasn't on for a Sunday morning.
'Keep playing!' shouted Steve 'and give it a bit more welly.'
Then he began to sing.
'I woke up this morning,
Didn't know what to sing.
I woke up this morning,
Knowing nothing 'bout anything.
Been searching for them clues,
That bring you back to the blues'.
There followed a trademark Steve guitar break – seeming to start rather tentatively and creating tension by appearing only just to keep up with it all only to arrive at bar 12 well large.
'I woke up this morning,
Threw the window open and wide
I woke up this morning,
Left nothing for the music to hide
Need to fix myself some breakfast
Need coffee first not last.'
'Bass solo!' he called.
I did my best to oblige, venturing rather expansively (for me) around the neck before heading back down to the safety of the V arpeggio.
'Last verse!'
Utilising the well-established trick of repeating the first verse as the last, Steve rose from his slumbers all over again and then we came to a stop – nice and tight. I was just re-propping my bass against the wall of the loo when I heard clapping and a whistle.
'Thank you very much Robin Hood's Bay … we are the Bad Dads ……… Thank you and Good Morning!'
Rather bemused I came back into the sitting room to find Steve pulling the sash window down with an emphatic clunk.
'What on earth's going on?' I asked.
Steve laughed 'Oh just a bunch of walkers who'd stopped to hear us playing …. so I thought we'd give 'em a bit of show …… bit worried they'd want an encore though …. and I need coffee!' he looked out through the window, 'looks as though they've gone now.'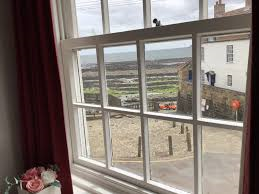 — X —
My good friend Steve died unexpectedly last Autumn and I miss him. He was one of my longest standing friends from when I moved to Sheffield in the late 70s and the partner of Lesley who had become friends with my own Sue when they met during their first few weeks away from home at Warwick University.
Steve was the first musician I hooked up with after moving north and we have jammed together over the years, working to develop songs and periodically to home record the results. We even gigged together a couple of times. An adept keyboard player and a guitarist with a distinctive style, Steve enjoyed an irreverent approach to vocals, able to inject a touch of irony and humour into the most intense of lyrics. In latter years he added the tenor sax to his repertoire and became an occasional contributor to the studio band 'The Blokes' under the name of 'Saxmo' (for contractual reasons I guess). I know that he enjoyed playing live the most and that his main focus was membership of that fine Holme Valley band 'Full English Breakfast', but he was a special musician for me – we had a lot of fun playing together and I am missing his enthusiasm and all-round musicianship.
— X —
It will come as no surprise that the eagerly anticipated Bad Dads album 'In the Dock' never materialised – oh don't get me wrong, there was interest, but the band was always a good few songs short of two sides of vinyl and then other things took priority ……….
One song did directly materialise from the weekend in Dock Cottage and was recorded on what was then a state of the art 4 track recording box using a metal cassette. It features Steve playing lead guitar in his understated, just behind the beat, sort of way. I have always loved it and always will – a precious memory.
'Going down to the sea
An old friend and me'